My Skiing History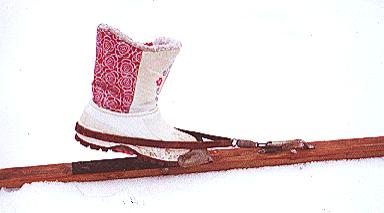 I began skiing in the backyard when I was six years old (1962). Santa had brought me a pair of wooden skiis with a metal toe piece and leather straps for your regular snow boots. Without the benefit a Professional Instructor I stumbled and fell alot, but I still managed to have fun and get up and down the hill in the backyard.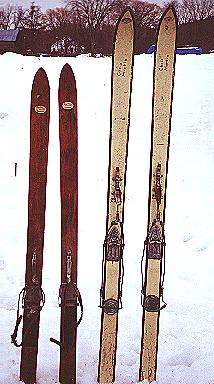 For Christmas 1967 Santa gave me a five day learn to ski week at Willard Mountain. I had acquired some better equiptment from a neighbor with a turntable toe piece and a cable heel. This was it! A T-bar to get up the hill and as many trips down as I could make in a day.
Back then the Lift ticket system was like $7.00 for a whole day ticket or .50 per single ride ticket. You had to make fourteen runs and then you were "Skiing Free"
Subsequent years of Birthday (December 19th) and Christmas presents brought better equiptment used on High School and 4-H Ski trips both single day and weekend length. Some memorable trips during the Late '60s and Early '70s were to Birch Hill, Bromley, Dutch Hill, Easton Valley, Haystack, Jiminy Peak, Prospect, Rock Candy Mountain. Some of these are now lost but you can see them by visiting New England's Lost Ski Areas Project.
During my eight years in the Navy I had the opportunity to ski in New Zeland, Korea, Japan, Italy, Germany, and even Mauna Kea on the Big Island of Hawaii. When I returned home to the Albany, NY area ('81-'89) I became very active in the Single Ski Club and the NY Capital District Ski Council. As President of the Council I was blessed to be the guest of the French Government Tourist Office on a ten day Fam Trip to Val D'Isere, Tinges, Les Arcs, and Chamonix. In 1986 I began my career as a Ski Instructor.